Certificates and Quality assurance
Without focusing on quality and quality control, we at Streff would not be able to meet your justified expectations for excellent service, nor would we be able to continuously improve.
This is why we apply a number of quality standards that help us shape the future of our company.
We are proud to be regarded as a trailblazer in Luxembourg – the only company to hold the full range of possible certifications.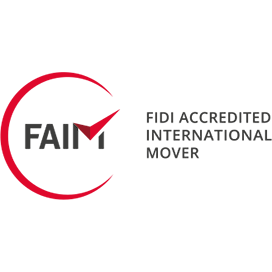 FAIM is the only internationally applicable quality standard for the international removal industry. It was established in 2000 in collaboration with one of the biggest management consultancies, and since then has been constantly adapted to meet the increasing requirements.
FAIM certification checks include every area of the company: finance, management, work implementation, environmental orientation and customer service.
FAIM certification is requested by many state/public organisations, and is considered the criterion for quality by multinational companies who are seeking a partner for their relocations.
We passed the certification in 2001 and received the coveted quality certificate; since then we have successfully renewed it every two years. We are proud to be regarded as a trailblazer in Luxembourg – the only company to hold the full range of possible certifications.
Anti bribery & corruption agreement

There is no denying that today, our environment is more important to you – and to us – than ever before. Our commitment to protect the environment is an obligation. We have been using recyclable materials for many years – some of which, such as the Security Box, we have developed ourselves and market them all over the world – for our various activities, helping us to save everyone's resources, yours and ours.
We apply ISO 14001 to record the environmentally relevant aspects of our operations, and are constantly striving to improve them.
This gives us as a company an effective instrument for recording environmental pollution and for consistently improving the environmental situation. Environmental risks are evaluated and emergency plans formulated in order to reduce the occurrence of incidents that may affect the environment.
We are pleased and proud that ISO 14001 is the confirmation of Streff's environmentally friendly behaviour in connection with our business activities.

The ISO 9001 standard defines the requirements for processes for customer/supplier associations in line with operational quality management. These processes are proven to lead to continuous improvement, reductions in process and error costs, motivated staff and more satisfied customers.
Companies that align their quality management systems seriously and consistently to ISO 9001 benefit from the system and the content of these standards.
You as our customer will also benefit from that.

The high standards of the work provided by the staff and their expertise are essential in determining a company's success.
Business interruptions, for whatever reason, are always a critical factor, which is why we are deeply committed to occupational health and safety, and general health care.
OHSAS 18001 is a management system that employs proactive inclusion of occupational health and safety to increase staff motivation by offering better safety at work and reducing downtimes and business interruptions. Furthermore, it gives us the competitive advantage of being recognised as a "safe and professional" company, and helps to prevent financial surprises in occupational health and safety.